Residential Products
Because every project is unique, Capozza Floor Covering Center offers an expansive selection of floor and wall products so you can find the perfect fit for your home. Click on a category below to learn more about each product: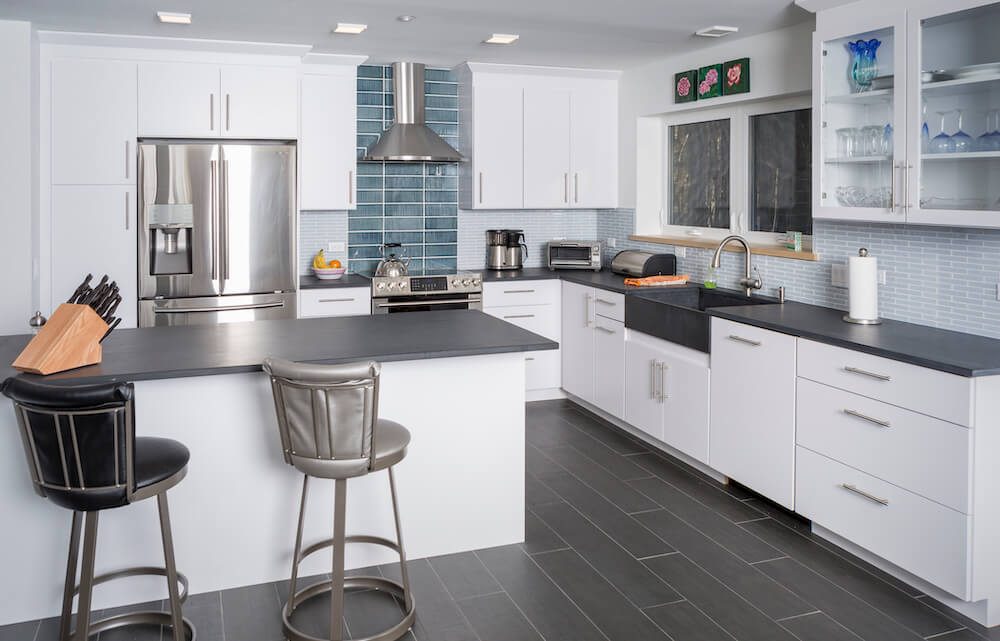 Ceramic, Porcelain + Natural Stone Tile
Ceramic and porcelain tiles are long-lasting and can be installed just about anywhere. It's a great choice for entries, kitchens and bathrooms, but an easy-to-clean, durable floor can be yours even in areas that aren't traditionally tile, such as living spaces and bedrooms. Worried that a tile floor will be too cold? Floor warming systems can make those cold winter mornings much more bearable!
What's the Difference Between Ceramic and Porcelain Tile?
Ceramic tile is generally less expensive to manufacture in standard sizes. It weighs less than porcelain tile and tends to be easier to cut. Ceramic tiles are not as durable as porcelain and are best installed in areas with low to medium traffic. Often used for decorative tiles, as it can be molded into unusual shapes, it is a great option for accent and wall tiles. Because ceramic has a higher water absorption rate than porcelain, it is not recommended for exterior use.
Porcelain tile is harder and denser than ceramic, and is highly resistant to scratching, staining, and chipping. With a low absorption rate, porcelain is almost impervious to water, so it may be rated for exterior use. Porcelain can be more expensive than ceramic, but it is much more durable, and is the perfect choice for high-traffic areas.
What About Natural Stone?
Mother Nature knew what she was doing – natural stone is among the most beautiful tiles available. There are some things to remember when considering natural stone options:
Natural stone is porous and will need to be sealed on a regular basis – anywhere from every six months to a few years, depending on usage – to help prevent staining.
Natural stone is organic. There can be a lot of variation in natural stone, in both movement and color, and no two pieces will be alike. Even pieces in the same lot can vary dramatically.
Natural stone is often more expensive than its porcelain or ceramic counterparts.
Are There Other Tile Options?
Yes! Some of the most unique tiles are glass or metal, in varying shapes, sizes and colors. Many mosaic tiles are a mix of material, such as glass and natural stone, allowing them to be used in many different decors. Glass, metal and mosaic tiles can be a great way to add interest or a pop of color to your project!
Have more questions? The Residential Sales Associates at Capozza will be happy to discuss your project and help you choose the perfect tile for your space.
---
Hardwood Flooring in Portland, ME
If you want a surefire way to improve the look and value of your home, nothing beats the warmth and timeless charm of hardwood flooring. Today's hardwood floors offer a variety of finishes, textures, and widths. Capozza Flooring Center is proud to offer both solid and engineered prefinished flooring from such trusted names as Maine Traditions, Superior, Shaw, Anderson Tuftex, Kahrs and Lauzon.
What is the difference between Solid Hardwood vs. Engineered Hardwood?
When you think of hardwood, it's typically solid hardwood you're imagining. Solid hardwood can be made from many different types of wood, including ash, oak, maple, hickory, and walnut. Solid hardwood is nailed to the subfloor, which means that it can only be installed above grade. Once installed, solid hardwood can be sanded and refinished as needed. Because solid hardwood is more susceptible to changes in humidity and temperature, we recommend that solid hardwood planks be no wider than 5".
Some think that engineered hardwood is "fake" hardwood, but that couldn't be further from the truth. Engineered hardwood is a veneer of real wood (typically between 3mm and 7mm) over a base of either plywood or furring strips. This makes the wood much more dimensionally stable, reducing the amount of expansion and contraction that can occur during humidity and temperature fluctuations. Because of this, engineered hardwood can be made in much wider planks, typically between 4" and 9". Engineered hardwood can be installed with either glue or nails, allowing it to be used in both below or above grade areas.
Are Hardwood Floors Worth It?
Hardwood flooring is best seen as an investment. Not only can it increase the value of your home, but it can also last you years! Hardwood floors are also easy to clean and come in a wide variety of styles. Hardwood floors are also an extremely healthy choice for babies as they are non-toxic and cannot hide small items. Hardwood floors are also an organic bio-degradable flooring option and are easy to install. Beyond all of these benefits, hardwood flooring could potentially save you money when you're thinking about selling your property!
Hardwood Floors vs. Carpets
While the price of carpet flooring might seem much more appealing than hardwood flooring, there are several benefits of having hardwood flooring over carpet flooring that begin to justify the cost of hardwood flooring. Not only does hardwood floor increase the value of your home, but it also lasts much longer than carpet does. Carpet also requires more effort and time to clean than hardwood flooring. Carpet is also not nearly as environmentally friendly as hardwood flooring is. While carpet may defeat hardwood in a couple of categories, such as price or comfort, hardwood is a long-term investment worth making.
Wondering which type of hardwood is right for your project? The Residential Sales Associates at Capozza will be happy to help you choose the perfect hardwood for your space.
---
Carpet
When it's time to choose a new floor, few options feel better under foot than carpet. Warm, durable, and available in a variety of styles and colors, carpet is a perfect choice for living areas, bedrooms, and stairs.
What Types of Carpet Does Capozza Offer?
Capozza proudly carries nylon, polyester and wool carpets from quality brands such as Shaw, Lexmark, Anderson Tuftex, Godfrey Hirst and Silver Creek. You'll find plush cut-pile carpet, durable looped carpet, and chic, colorful patterned carpets that can be installed wall-to-wall or cut and bound into an area rug or runner.
What's the Difference Between Nylon, Polyester, and Wool?
Nylon is used more than any other carpet fiber. It has great resiliency and twist memory, allowing your carpet to "bounce back" and look newer longer. Although not inherently stain-resistant, many nylons have stain-resist treatments, greatly increasing their protection against household spills and stains. It offers excellent abrasion resistance, which makes it a perfect choice for high traffic areas such as stairs and busy living spaces.
Polyester, while less resistant to traffic than nylon, is naturally stain and fade resistant, and can be less expensive than other types of carpet. The fiber receives dye very well, so polyester carpets can offer more vibrant colors than their nylon counterparts. Polyester can be a great choice for lesser-used spaces, such as guest rooms or bonus rooms.
Wool is considered the best of the best when it comes to carpet. It can be more expensive than other carpets, but also offers some pretty great features – it is stain and crush resistant, fire retardant, insulating, and can even help regulate humidity and air quality in your home. Extremely durable yet soft and warm, wool is a great choice for almost any area in your home.
Still not sure which carpet is right for you? Come in and browse our showroom. The Residential Sales Associates at Capozza will be happy to help find the perfect carpet for your space.
---
Vinyl Flooring
Vinyl flooring has come a long way from your grandmother's kitchen. Modern vinyl flooring is more attractive than ever, and warmer under foot than tile. Available as sheet vinyl, luxury vinyl tiles (LVT), and luxury vinyl planking (LVP), this versatile flooring option can be used in many different areas, especially when your subfloor may not be able to hold the weight of other types of flooring.
Sheet Vinyl
This is the perfect option if you're looking for something cost-effective and easy to clean. Because sheet vinyl is flexible and light, it can easily be installed in older homes or other areas where the floor is slightly uneven. There are no grout lines to worry about, so it's a great choice for wet areas such as bathrooms, kitchens, laundry rooms and utility rooms. Keep in mind that sheet vinyl will show any imperfections in the floor below, so it needs a clean, smooth base underneath.
LVT and LVP
Luxury vinyl tile and planking are gaining popularity, and for good reason – this flooring is waterproof, scratch resistant, and easy to install. There are options for glue down or floating installations, some of which can go over your existing flooring. Want a tile floor, but ceramic and porcelain are too cold? Choose an LVT that can be grouted for a warmer floor with the same look – it's hard to tell the difference! In a bathroom, a hardwood floor might not stand up to moisture, but a wood-look LVP floor will hold its own against water and humidity. And don't be afraid to think outside of the box – LVP can make a fantastic accent wall.
Wondering if vinyl is the right choice for you? The Residential Sales Associates at Capozza will be happy to answer your questions and help you choose the right product for your floor.
---
Cork Flooring
Looking for a natural floor to warm up your space? Cork may just be it! Available in both glue down and floating options, there are so many benefits to cork flooring – but it's not for every area. Read on to see if cork will work in your home.
Why Choose Cork?
Cork is environmentally friendly. The bark of the cork oak tree can be harvested every nine to twelve years with no harm to the tree itself, making cork one of the most sustainable flooring resources available. Not only that, most cork flooring options are made with the leftover material from other industries (for example, wine corks) so there's less waste.
Because cork contains millions of tiny air pockets that act as insulators, it's warm and comfortable under foot. There's a bit of "spring" in the floor that helps when standing for longer periods, and items dropped are less likely to break on cork than on other types of flooring.
Those same air pockets allow cork to have excellent sound-absorption properties, making it a great choice for upper floor areas.
Cork is naturally hypoallergenic and perfect for those suffering from allergies and asthma
Cork is easy to maintain – it only needs to be swept (or vacuumed) and damp-mopped regularly.
What to Consider:
Cork flooring needs to be sealed to help protect against staining. While some cork does come pre-sealed, it often has to be renewed periodically. Regardless, spills should be wiped immediately.
Although cork is naturally liquid-resistant, excess water or high humidity can still cause swelling. And many floating cork floors are made with a base that isn't water-resistant at all. For this reason, we recommend that cork not be used in bathrooms or other wet areas.
Because cork is soft, it's not as durable as some other floors and can scratch easily. It's especially susceptible to scratching from pet's nails.
Cork is sensitive to light, and the color can fade over time, especially in bright sunlight.
Still not sure if cork flooring is right for you? The Residential Sales Associates at Capozza will be happy to help you choose the perfect floor for your space.
Linoleum
In the case of linoleum, it's easy to be "green"! Eco-friendly and unique, linoleum is making a comeback. Available in sheet goods, tile and floating options, today's linoleum is easy to maintain and comes in more colors than ever!
Are Linoleum and Vinyl the Same?
Although the words are sometimes used interchangeably, linoleum and vinyl are very different products. While vinyl is a synthetic floor covering, linoleum is made from a mixture of more natural materials such as linseed oil, tree resins, mineral pigments, and jute backing. Not only are these materials renewable and naturally low-VOC, they also allow linoleum to decompose completely at the end of its life. This makes linoleum a fantastic choice for those looking to design their home with the earth in mind.
Should I Consider Linoleum?
If you're looking for color, yes! You can choose from a rainbow of colors. A skilled installer can even make designs from multiple colors – think borders, color blocking, and patterns – for a floor that's unique to you. Use your imagination!
Linoleum is also easy to maintain. While in previous years linoleum required a finish to be applied periodically, newer linoleum floors have a topcoat applied during the manufacturing process, eliminating the need for an additional sealer. Regular sweeping (or vacuuming) and damp mopping are all that's needed for day to day maintenance.
What to Consider:
While linoleum can be installed in areas where water is present (kitchen, laundry, entry, etc.), it can be damaged by excess water and high humidity.
Linoleum can be prone to scratching, which may be more visible on darker-colored floors. Products are available to buff out damage.
Because linoleum is a stiffer, more brittle material than vinyl, it needs to be installed by a certified installer.
Thinking of a colorful new floor? Let the Residential Sales Associates at Capozza show you all of our linoleum options!
Featured Residential Tile + Flooring Brands
We partner with leading manufacturers to provide you with the very best brands the industry has to offer: