Testimonials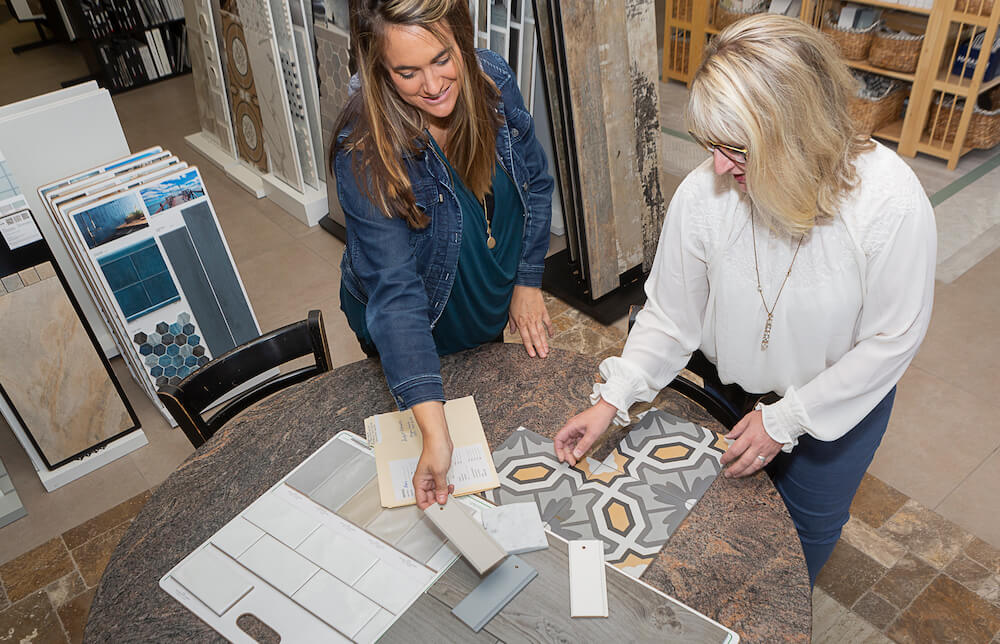 Susan, I can't thank you enough for all your help and guidance yesterday. This was becoming an overwhelming task for me that I started to dread instead of be excited about. You were exactly what I needed to help with what I had in mind.

– Kate
Katie was extremely helpful and patient with us while we explored a number of flooring options. We never felt rushed or pressured and feel confident we made the best decision for our floors.

– D. Wise
Great experience with all of those that I worked with from design, scheduling to installation.

-N. Moulton
The entire experience from choosing the carpet to having it installed was awesome. Nicest company and employees I have dealt with recently.-

Anonymous
Tia led us by the hand through the tile to selections she thought might best match our personal preferences. That made the experience better for my wife and faster : ) for me!

– B. Balcavage
Everyone is so friendly in the store. Even though I'm working on a small scale DIY project, I felt like I got great customer service every time I came in the store.

– S. Cooke
Very nice experience from showroom to order to pick up of material. Very professional staff.

– G. O'Connell
The colors chosen and the installation job is near perfection 🙂 We absolutely love the job done by both Capozza and Old Port Specialty Tile. Both Tia and Lindsay with whom I was lucky enough to work were incredibly responsive, timely, and did an absolutely spectacular job. I couldn't recommend them more highly.

– A. Oliver
All excellent – from showroom experience to final clean-up. Tia Green was wonderful to work with – gave good advice, was thorough and very thoughtful in communicating and following through.

– J. Chandler
We worked with Susan. She was very helpful. She knew the style we were looking for was able to show us items that worked within our budget. Each time I've gone into the store all of the staff members were very friendly and helpful.

– S. Tanguay
Susan is a delight, she responds immediately and is always so welcoming. I've been a satisfied customer for many years of remodeling. And she certainly knows her stuff!!!

– A. Adams
The installer was professional. He was on time and cleaned up well afterwards. He also explained any concerns/issues.

– P. Pierce
By the time I got to the tile selection I was a bit overwhelmed with making choices for my remodel project. Tia quickly understood the look I was going for. I was in and out in a half hour with the perfect shower and wall tiles. She had a great design eye.

– J. Monaghan
Diana is such an asset to your company. She is gracious and friendly, and very knowledgeable about design and the application of time. I also like how easy it is to navigate your showroom.

– J. White
Very quick arrival of special order. Warehouse guy was very nice and helpful. Opened the boxes to be sure it was all the correct product. Diana sent pictures of the tiles with different grout colors to help me pick the right one. All around very helpful. Diana was out when I wanted to order and Susan stepped right in and it was a smooth process.

– J. Pendergast
Just a great experience from start to finish!

– M. Valentine
Every detail was handled carefully and perfectly. David, the installer did an outstanding job in every way. He's a real technician and artist, and a super nice person.

– M. Howard
Marc and Mark worked with us for a week, they were professional and friendly! Kept us informed about what they were doing and asked our options as needed. The end result is perfect!

– L. Grabarz
Tia was great to work with. Her ideas around color and design were extremely helpful. She has a lot of patience throughout the entire process. Brandon did an amazing job with the installation.

– P. Tartarilla
From helping us pick out the right carpet for our bedroom to the neat and one day installation, it all went well, plus the tile back splash tile over the range.

– J. O'Connell
The person we worked with was exceptional. She recommended the best items that suited our needs, gave tips on installation, and kept us updated on order status. Capozza offers a great tile selection and has an expert team.

– D. Baldoni
Very professional, excellent communication, high quality workmanship. All greatly appreciated.

– C. Bowden
I was greeted promptly and the salesperson connected with my vision and style. She worked through my 4 rooms of renovations and was most helpful with design.

– M. Emery
It's the attitude of your workers..I feel we are very fortunate to have someone like Ben on the tiling team who takes pride in his work and his interactions with the condo owners have always been very professional and pleasant.Everyone I have engaged with at Capozza has been extremely professional, knowledgeable and a pleasure to work with and it shows that the employees are valued and well taken care of which is a direct result of upper management. Thank you for paying attention to this.

– M. Bellino
The concrete prep went very well and was completed in very good time. The VCT installation was very quick and the quality was good. The walk off tile quality was good as well.

– T. Kirby
The crew was exceptional to work with. Very hard working and very caring men. Always smiling and a total pleasure to work with.

– B. Willer
Susan Tangen is always great at determining all the needs for a space, helping with design, calling me back in timely fashion, working with all price points, providing updates on ship times, etc. One of the easiest trade companies we work with.

– K. Black
Both the tile backsplash and flooring look amazing. Thank you for your guidance with selecting these products. The end-result of our kitchen is just what we had hoped for. Both install teams exhibited excellent customer service skills (timely, professional, polite, and courteous), were aware of their surroundings, took the necessary precautions to protect any/all adjacent areas for accidental damage, and cleaned up well at the job-end.

– Paul
We did a long awaited total remodel of our kitchen (literally gutted the space down to the studs). What a pleasure it was to work with Diana AND the other folks at Capozza Tile. I had been to 3 other businesses in my area and none of them left me with any warm and fuzzy feelings. The choices of tiles for our backsplash was overwhelming. Diana was awesome from the moment I walked in the door. She made some awesome suggestions and I found just what I was hoping for! Her experience and decorating sense was so very welcome and appreciated!! We had a little mix up with installation and Tia's (project manager) customer service was absolutely outstanding!! I would highly recommend Capozza to anyone and everyone for a professional and caring experience!

– Sue B.
I was remodeling the kitchen in my condo to prepare it to be a rental. Although it is in a older building in Washington DC, the market is competitive and the kitchen needed the upgrades. I planned to replace the backsplash, but since it was going to be a rental the design needed to be classic, and neutral, and modern, maintenance free, and cost effective!! Diana at Capozza Tile met all those objectives and more!I also live in Maine, and I went to Capozza Tile to start the process where I met Diana. She presented 4 x 16″ biscuit ceramic tile to be placed on the wall in a subway pattern. I would never have thought of this and it shows her ability to visualize and understand her client's needs. She made sure that the total order was available on time to take back to DC. The install went very well and the backsplash looks terrific. I would recommend Diana to anyone who needs a caring, professional kitchen and bath designer. I hope to work with her again!

– Robin W.
My husband and I decided to remodel our very outdated bathroom. After looking at hundreds of bathroom photos we had a good idea of what we wanted the bathroom to look like, but didn't know where to begin. We had worked with Capozza tile in the past so we decided to return. On one Saturday morning it was our good fortune to stop in Capozza and meet Diana. That was one of many meetings with Diana, as she spent hours with us working out every feature of our new bathroom. She has an amazing eye for design and detail! On paper she laid out the design for both the bathroom floor and walls of our walk-in shower. The incorporation of penny rounds was the final touch that made this an absolutely gorgeous design! We would highly recommend Diana and Capozza Tile. (the photos do not capture the real beauty of this work)

– Bonnie P.
Have done several jobs with Susan @ Capozza. Love her energy, creativity & thoughtfulness. I would mention a look, and she'd find the tile I was looking for within minutes. Love my results, getting ready to redo the 3 Rd bath – she'll be the first call I make!

– Andrea A.
Capozza Tile and Floor Covering is a great industry partner. I work with them frequently regarding our in house construction projects and with our new build and remodeling clients. The staff is very knowledgeable with all types of tile, install and design. I feel confident sending my clients to meet directly with Capozza and I also love accompanying them to their spacious and up to date showroom to make selections. They are always timely with pricing and information. The customer service we receive is bar none. I highly recommend Capozza Tile.

– Tavia D.
We arrived at Capozza's knowing only that we needed a new kitchen floor. From start to finish, it was a fine experience. Melissa greeted us warmly, learned what we wanted, and directed us to Cameron. He helped us narrow our choices through his questions, knowledge, general expertise and extraordinary sense of color coordination and design. When installation day arrived, Marc contacted us so we knew exactly when Wade and Matt (We think that was his name) would come to measure and install the floor, which they did with confidence and skill. Communication with us was excellent throughout. We were especially impressed when Wade assured us he would call us if the predicted blizzard prevented him from coming on a particular day, and he absolutely followed through on that promise! We love the floor, and are pleased, but not surprised, that all of Cameron's advice was "spot-on.

– morse1382 (Houzz username)
Capozza Tile has a good selection of tile in their showroom. They're also happy to listen to your needs and make suggestions that might not be obvious. I have been able to special-order obscure tile supplies through them as well. If you want to have attentive one-on-one help as you look at tile, call ahead and make an appointment.

– Stacey C.
Great showroom and fantastic service. I have dealt with Mike and Tia and they seem to know the showroom inside out. I used them for tile selection for 2 bathrooms and entryway. Went in with just an idea and the staff made it easy to move to a more complete vision with the right tile and accents. They were the most helpful during the design process, with great suggestions. I tried others in town but these guys are the best.

– pasbesoinderien (Houzz username)