Commercial Services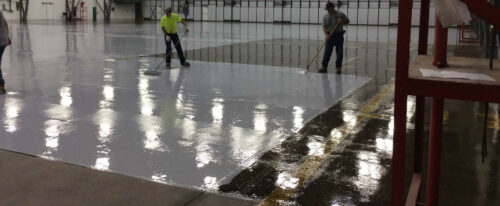 Let Us Be Your Flooring Partner of Choice
At Capozza Concrete + Epoxy Flooring, we've completed countless flooring installations in Maine, New Hampshire, and Massachusetts. We have extensive experience in a wide range of market segments. Our team provides the service, expertise, and products to address your flooring needs.
Industries we specialize in:
---
Healthcare
Concrete Flooring For Healthcare Environments
Hospitals, Doctor's Offices, Dental Offices, Long-term and Short-term Care Facilities, and Clinics all share one very common theme: sterile environments. The choices for flooring in healthcare facilities have changed as constraints have been placed on the criteria to be safe and clean. Other factors that must be considered when selecting your healthcare related flooring are maintenance, durability and ease of mobility for patients and their care. Benefits of Concrete Finishes include: seamless flooring that is easy to maintain, APE-registered antimicrobial coatings, durability to withstand high traffic as well as heavy medical equipment and sharp instruments, and slip-resistant coatings to ease the movement of patients, rolling gurneys and wheelchairs.
Our team knows how to meet the demands of the industry while paying close attention to the aesthetics at the same time. Concrete flooring is an excellent choice for best infection control practices as it is easy to clean, stain resistant and anti-microbial. But, sanitary flooring shouldn't restrict you to an institutional feel. Your options in Epoxy Finishes and Metallic Epoxy Coatings allow you to bring in color, texture and design to keep the environment warm, welcoming and a peaceful place to heal.
Interested in discussing your Healthcare project with our team? Click below to get started.
---
Education
Concrete Flooring for Schools, Colleges + Universities
Educational facilities have large expansive common areas, cozy classrooms, gymnasiums, mechanical rooms, utility areas and the grounds that all require flooring that meet state safety requirements while being low maintenance and budget friendly.
Capozza Concrete + Epoxy Flooring Division has many options and solutions for every area of your schooling facility. We have worked extensively in all levels of schools from elementary up through colleges and universities, both interior and exterior. We are well versed in the industry standards and regulations and our project managers and installation crews work hand in hand to resolve any challenge you may need tackling.
Specific Requirements For Education Facility Locations
Safety, resilience, sound absorbing, slip resistance, seamless, and durability are all key aspects of flooring selection for your school. Aesthetics are also key. Colors, logos, and patterns are proven to enhance the learning environment and culture. Our team offers you selections and products that address both sides of the selection process.
We are also the best source for any current flooring issues such as cracking, staining, or any concrete area with imperfections. We offer assistance in concrete repair and resurfacing of existing issues. If you are an education maintenance technician or on the board, give us a call and talk to our experts about your specific project and needs. Let us partner with you for the long haul, ensuring your facility stands strong into the future.
Ready to get started?
---
Hospitality
Luxury, elegance, cozy, relaxing, and romantic are just a few of the emotions you want to convey to your guests. No matter what your patrons come for, they want to be treated with the utmost quality and care the industry has to offer.
Your establishment has to be cutting edge. It has to keep up with the times and draw in the crowd with its aesthetics and amenities. Concrete flooring can set the perfect stage where all other aspects play off of. We offer epoxy coatings,or polishing for the perfect décor, as well as added benefits of slip resistance, thermal shock, and stain resistant qualities for industrial kitchens and maintenance rooms.
Our trained Technicians and Project Managers will come on site and discuss your project needs and resolutions. We take into account not only the practical application but also the opportunity to give your location the perfect base to build on your brand. We can incorporate texture, design, custom colors, and logos, all allowing you to set the stage for your client's retreat.
Want to learn more?
---
Food + Beverage
Unique to the Food and Beverage Processing Centers is their need for a flooring product to withstand constant cleaning from what can be a large list of food related fats and compounds. Plant based oils, animal fats, harsh and abrasive equipment cleaners, salts and sugars alike can all deteriorate leaving you with intensive maintenance procedures and costs. And then there is the wear and tear of heavy equipment, forklifts, heavy loads, and repetitive wearing patterns. These factors all degrade the life of your flooring.
At Capozza Concrete + Epoxy Flooring we have many product options for all your needs. There are several treatments available between, polishing, sealing, and epoxy or urethane finishes that will let you obtain the perfect balance between longevity, durability and ease of maintenance. Let our team show you the perfect match for your specific industry. We will also show you why concrete is best when dealing with chemical spills and thermal shock.
Ready to get started?
---
Brewery, Distillery + Winery
Portland, Maine was recently noted to have the most breweries per capita of any city in the country! Home Breweries, Micro-Breweries, Distilleries, Mead and Wineries are on the rise and ever growing in popularity all throughout Maine and New England. One of the challenges these locations come upon when choosing their flooring is the desire to stand out while keeping up with the high restrictions put on the food and beverage industry.
The ability to produce flooring that is functional and inviting at the same time is where our specialists thrive. At Capozza Concrete + Epoxy Flooring, we can provide you with concrete flooring options that address many of your design and quality assurance needs. Not only can concrete products be low maintenance, easy to clean, and highly durable, they can also lead to a clean and modern atmosphere perfect for sitting back and enjoying your craft beverages.
Specific Requirements For Breweries, Wineries + Distilleries
Brew Rooms must be easily maintained. The floors require pitch for drainage, must be thermal shock resistance, slip resistant, and chemical resistant. The Tasting Rooms also need to be slip and stain resistant, antimicrobial, and also must match your brand and achieve your desired ambiance. Production areas, bottling, filling and fermenting areas need to be contamination free as well as stain resistant and easily mopped and drained.
Your brewery, distillery and winery not only have to be up to sanitary codes, but also have to be warm and inviting to the general public for tastings and tours. Don't forget about the aesthetics. You may have an industrial building, but we can make sure we utilize finishes and toppings to match your desired look, feel, and brand presence. The opportunities are endless with concrete when fulfilling your industry's needs.
Call our Concrete + Epoxy team and find out what concrete finish is best for your desired outcome. We will assess your new tasting room, refinery, or processing area and make suggestions for form and longevity. Modern designs, colors, metallics, textures, patterns, and logos are just a few options to best represent your brand.
---
Dispensary
The new and rapidly growing industry of legalized cannabis dispensaries have similar flooring needs as those of Food + Beverage processing. As local governments pay more attention to the building safety of the growing number of dispensaries in Maine, the industry is turning towards concrete polishing and epoxy coatings as a low maintenance, cost effective solution to their new regulations.
Cannabis growth is reliant on environments that are not always forgiving on most floor coverings nor bare concrete. The temperature and humidity necessary for a successful grow facility also creates the ideal conditions for fungus growth, buildup of microorganisms, and slippery wet surfaces. Bare concrete is porous. Liquids, fertilizers, fungicides and other chemicals can leach through the slab contaminating the soil and groundwater. The watering systems and humidity can weaken the structural integrity of your concrete slab, overtime breaking it down.
When you choose to work with our team at Capozza Concrete + Epoxy Flooring, we will come and inspect your new cannabis location. We will talk about vapor barriers and underlayments, sealing concrete, epoxy coatings, and polished concrete. Our processes are virtually seamless, reducing your risk of contamination and minimizing maintenance. They are also moisture tolerant and chemical and acid resistant. We can also add slip resistant coatings to complete your flooring surface adding extra layers of safety. We are able to produce flooring that can withstand the specialized needs of your grow room and at the same time look inviting in your waiting and sales rooms through the selection of customized colors and patterns. We can create flooring for your dispensary to best represent your company's brand and protect your investment for years to come.
Ready to learn more?
---
Retail
Epoxy Coatings and Polished Concrete are perfect options when selecting flooring finishes for Commercial and Retail spaces. Our floors are easy to clean, require no additional waxing, they are slip resistant, and are timely to install. Once an epoxy finish is applied there are no further treatments necessary. This is highly beneficial in the opening of the facility as well as the long-term care and maintenance budget. Other additives such as flecks and aggregates add texture as well as visual design to your floors. Colors and patterns can be used to separate areas of large spaces, eliminating the need of multiple flooring types and transitions that could present tripping hazards and maintenance issues. You can even incorporate logos and custom colors to continue your branding theme directly into the finished product.
Our Products and services are perfect for:
Shopping Malls
Retail Stores
Department Stores
Office Complexes
Spas + Salons
Sporting Facilities
Boutiques
Dispensaries
Expo Centers
Want to learn more?
---
Property Management
Office buildings, corporate spaces, condos, and townhouses all need flooring that can stand up over time with the least amount of maintenance possible. If you are part of an organization which maintains all aspects of the property, then our Concrete + Epoxy Flooring Division Team is the perfect partner for you. From parking garages, entrances, lobbies, laundry facilities, kitchens and main living areas, balconies, or even rooftop decks and spa areas, there isn't really a facet of your facility we can't handle. We offer solutions for just about every surface, whether it is grinding and concrete repair, or intriguing patterns and custom color epoxy coatings, we have your solution.
Are You Building a new facility?
Contact us during your planning stage. Involve our experienced project managers on day one. We understand your industry and will keep your long-term goals top of mind. Costly repairs, time staking upkeep, and interrupting your tenant's daily schedule can be a huge hassle down the road. We will steer you towards the best products and finishes that will cut down on your maintenance time and budget, and will stand up over time, all while achieving the aesthetics your clients desire.
---
Manufacturing
At Capozza Concrete + Epoxy Flooring, our Project Managers understand that Manufacturing Plants and Facilities require flooring that is high performing. Heavy equipment, forklifts, and delivery trucks are just a few of the everyday wear and tear factors that most other industries never have to face, but you do. Concrete finished floors can withstand incredibly high impact on a regular basis making them the perfect match for your facility. Concrete can also be resistant to harsh chemicals and alkalis, protecting the structural integrity of your facility.
Whatever you create at your manufacturing facility, we recognize it comes with its own regulations, safety protocols and tolerance considerations and we factor those in when choosing your flooring. You can trust that with our team's combined experience we have you covered. Our project managers partner with you, visit you onsite and assess your specific needs in person. We will propose the appropriate flooring for your industry, budget, and desired aesthetics. We understand that time is money. Concrete options can be fast curing, allowing for minimal downtime, quickly getting your company back to 100% productivity.
Now that you know concrete finished floors can withstand everything your manufacturing industry can throw at it, we also want to remind you that your brand is also important to us. Epoxy coated floors can mimic any variety of color combinations you desire. No matter what your logo or colorway is, we can represent it in your flooring. Manufacturing plants are not what they used to be. The old image of a dark and dingy building is a far thing of the past. Most plants are state of the art facilities that attract the youngest and brightest minds entering the field. The finishes we create compliment your culture at every turn.
Give us a call now, let us be the perfect partner in your manufacturing facilities flooring needs.
---
Affiliations and Accreditations