Commercial Products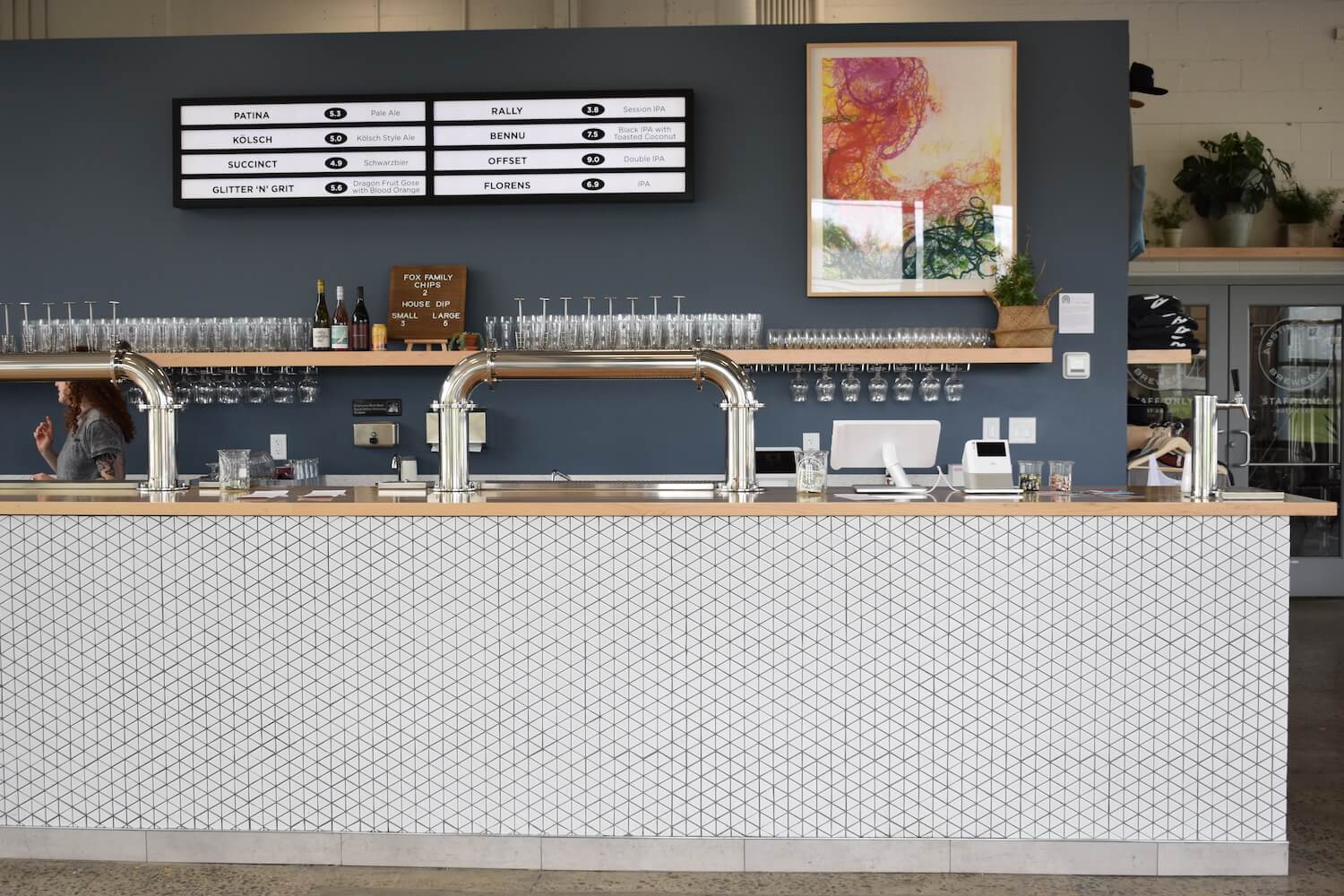 Your business, your brand.
We listen to our client's vision, we ask questions specific to their industry, then we make recommendations of the proper products and installation materials and processes to ensure your location is sharp, on brand, and functional for years to come. Our work ethic, dedication, and expertise are why Maine's leading business owners, architects, designers, and builders trust the Capozza Commercial Flooring Division with all their flooring needs.
Resilient Flooring
Resilient Flooring, a catch-all term for vinyl, rubber, and linoleum flooring, is created by combining highly engineered polymer materials and pigments to create a durable product that allows for natural movement in commercial settings. Products in this category include Luxury Vinyl Tile (LVT), Vinyl Composite Tile (VCT), glue down and floating vinyl planks, sheet vinyl, sheet rubber, rubber tiles, linoleum, and more. On the budget end of the spectrum is VCT, which is a low-cost solution to a high traffic area but requires a fair amount of maintenance to keep looking new. At the top end of the cost spectrum is sheet vinyl and rubber specifically designed for healthcare applications where cleanliness and infection control are the top priority. A bonus to this flooring option is that it may be combined with a flash cove installation which means the product is wrapped 4"-6" up the wall creating an integral cove base. The seams are heat welded creating a completely impervious floor. This type of installation is especially popular in healthcare and commercial kitchens.
LVT has become one of the most popular flooring choices in recent years. Improvements in technology have transformed resilient flooring into a high-quality flooring option for applications that require low maintenance without skimping on style. At Capozza Floor Covering Center, our library of offerings come in an array of colors, patterns, and high graphic prints. This allows you to achieve a high end look at a lower cost without sacrificing the durability of a traditional tile or hardwood. For these reasons, Resilient Flooring has become popular to use in nearly all market sectors of commercial flooring.
Tips of the Trade:
When using glue down vinyl or rubber it is important that your subfloor be flat, clean, and free of debris. In many cases, this will involve additional floor preparation prior to installation of the floor finish product. At Capozza Floor Covering Center, our Project Managers will discuss this with you during the planning and design stage to ensure that you achieve your desired results. One advancement to help limit the cost of subfloor preparation is the use of floating or loose lay resilient flooring. These newer products are generally thicker than the glue down versions and are more forgiving when going over a subfloor with minor imperfections.
Another consideration with resilient flooring is that when installed over concrete, the subfloor moisture must be checked to make sure it is suitable for the selected product. If the slab moisture content is higher than the threshold tolerated by the finish flooring, Capozza offers methods to mitigate high moisture slabs. When working with our team at Capozza Floor Covering Center, we can address all your project flooring needs. Not only can we help with your finish floor selection, but our Capozza Concrete + Epoxy Team is also here to assist with Moisture Mitigation and Self Leveling Underlayments to make sure the prep work is done properly for the flooring installation of choice.
Ready to get started?
---
Tile Flooring
Tile has stood the test of time and can be installed just about anywhere. While it has been customary to specify tile for lobbies and bathrooms, there are many other suitable applications on floors, walls, and ceilings. Tiling on the wall of a high traffic commercial space such as the corridors of a school, hospital or busy corporate lobby will not only showcase a unique design but will also limit the cost of repairing damaged walls, and the need to repaint on a regular basis. The versatility of tile is endless, from a designer tile backsplash in your office coffee room to quarry tile with industrial grade epoxy grout in a commercial kitchen, tile can cover it all.
Sizes and Patterns
At Capozza Floor Covering Center we have a vast array of tile to choose from. We showcase tile in all shapes, sizes, colors, and textures. Tile may be installed in a variety of installation patterns; stack bond, brick bond, basketweave, and herringbone to name a few. Large format tiles can be installed on building exteriors to provide a distinctive tile aesthetic.
Other unique tile shapes like penny rounds, arabesques and ogees, or random linear strips are generally found in mosaic form. Octagons are now available as large as 14″-16″ allowing patterns like octagon & dot, windowpane, basketweave, and pinwheel to be created with multiple sizes of larger field tile or found readily available on mosaic sheets in smaller sizes.
So many choices to Consider:
Ceramic + Porcelain Tile
Ceramic is defined as any tile that is made of baked clay. Ceramic is typically more cost effective, easier to cut and is more decorative in finish. Ceramic can be finished in just about any color imaginable in either high gloss or matte finishes. When choosing ceramic you should be aware that the glaze can chip or scratch so it should be specified for more decorative applications like a subway tile on a focal wall or kitchen backsplash.
Porcelain tile is clay that has been fired at a higher temperature creating a stronger and more durable tile. If you are looking for an impermeable choice that will not stain, porcelain is ideal for you. Through-body porcelain tile is a particularly good choice as it is manufactured with colors and patterns consistent between the surface and body of the tile. Improved technologies in the flooring industry have created porcelain options that mimic many other hard surfaces such as wood and marble, but without all the maintenance. We recommend selecting a porcelain over a ceramic when choosing flooring for high traffic areas.
Natural Stone
When considering natural stone, it is important to remember that Mother Nature contributed to the manufacturing of the product. Our manufacturers can fabricate the stone into the desired sizes with polished, honed, or tumbled finishes, but cannot generally make it harder than it is, more resistant to breaking along veining or natural defects, or more or less consistent in visuals. All stones require sealing prior to grouting to resist staining and will need to be re-sealed throughout their lifetime.
Tips of the Trade
When researching and selecting a tile of any kind for your next project, trust our team for guidance. You want to make sure you have all the important details covered to ensure your tile is installed to manufacturer and TCNA specifications. For example: it is important to know the manufacturer's guidelines for rating to ensure they are proper for the specific application you would be using them on. You also need to utilize the recommended thinset and style of grout that are specified for your tile selection. Glass tiles with a crackle finish should always be sealed prior to grouting to resist staining and for ease of grout clean-up. "Metal" tiles, mosaics, and decorative trims can be made of resin to mimic metal. It is important to confirm that real metal tiles are approved for wet areas, to eliminate rusting and staining. It is also important to check the manufacturer's specifications for resin metal tiles to ensure they can sustain the heat in kitchen or fireplace installations.
At Capozza Floor Covering Center we follow the recommendations of The Tile Council of North America (TCNA) and keep our teams up to date with training on all the newest products available in the tiling world.
Ready to get started?
---
Hardwood Flooring
If you want a classic installation of a timeless product, nothing beats the warmth and charm of hardwood flooring. Today's hardwood floors offer a variety of finishes, textures, and widths from solid to engineered construction. Many prefinished options come with advanced technology enhancing the wear layer and durability. Hardwood floors do require regular maintenance, but typically do not need replacing. They can be repaired, sanded, smoothed, and refinished. You can even re-stain floors if a new color is desired to maintain a fresh updated look without the cost and hassle of a full tear out and floor replacement.
Hardwood floors are great choices for commercial spaces such as lobbies, restaurants, and dining areas where it may not have been considered before. Hardwood is also the most popular selection for new condo developments across Maine. If sustainability is high on your prerequisite list, then hardwood, especially from US manufacturers, may be your best pick. Hardwood is a highly renewable resource that is eco friendly, even when removed from a jobsite as it can easily be recycled.
Tips of the Trade
Remember hardwood is a natural product and different species offer different characteristics such as hardness and dimensional stability. Wood reacts with the environment it is put into and must acclimate before installation. Our seasoned project managers will guide you during the selection process ensuring that the wood you select is suitable for your space.
Ready to get started?
---
Carpet
Commercial carpet delivers high performance and style to commercial spaces including corporate, hospitality, education, and retail. This flooring choice can be easier on budgets as it is manufactured to withstand high foot traffic and is easily maintained. Carpet also helps absorb sound in open concept offices and can improve acoustics.
So Many options:
Commercial-grade carpet is available in either broadloom or tile format. Broadloom is traditionally 12' wide, though some manufacturers do offer wider widths. This wall-to-wall option is popular in healthcare applications like waiting areas and corridors. Carpet may be manufactured with a water impermeable cushioned backing. Broadloom comes in an array of patterns and colors from standard Berber or solid color, to large scale geometric or floral patterns.
Carpet tile has gained popularity and substantially increased in market share. Carpet tile comes in many sizes and shapes, the most popular styles being 2' x 2' squares and rectangular planks. With carpet tile you can achieve any type of design you can imagine by combining assorted colors and sizes for your one-of-a-kind design and brand representation. Carpet tile is also ideal for phased installations where only portions of a room can be done at one time while furniture or equipment is shifted around to accommodate the new installation.
What To Know About Carpet Fibers:
Manufacturers use several types of fibers (both natural and synthetic) in manufacturing carpet. Olefin, polypropylene, and polyester are generally less expensive carpet types and are more susceptible to wear and tear. Nylon is another common carpet material offered in two varieties; type 6 and type 6,6. The molecular structure of the two types is different from one another, and generally a type 6,6 will be more durable and therefore more expensive. Type 6 nylon has improved greatly over the years and now has performance characteristics similar to some types of 6,6 nylon. It also has a lower melting point which makes it ideal for recycling and uses in future carpet products. Wool, a natural fiber, is another carpet type offered in commercial settings. We typically see wool specified on higher-end hospitality projects.
Ready to get started?
Extensive Product Selection
Featured Commercial Flooring Brands