Commercial Products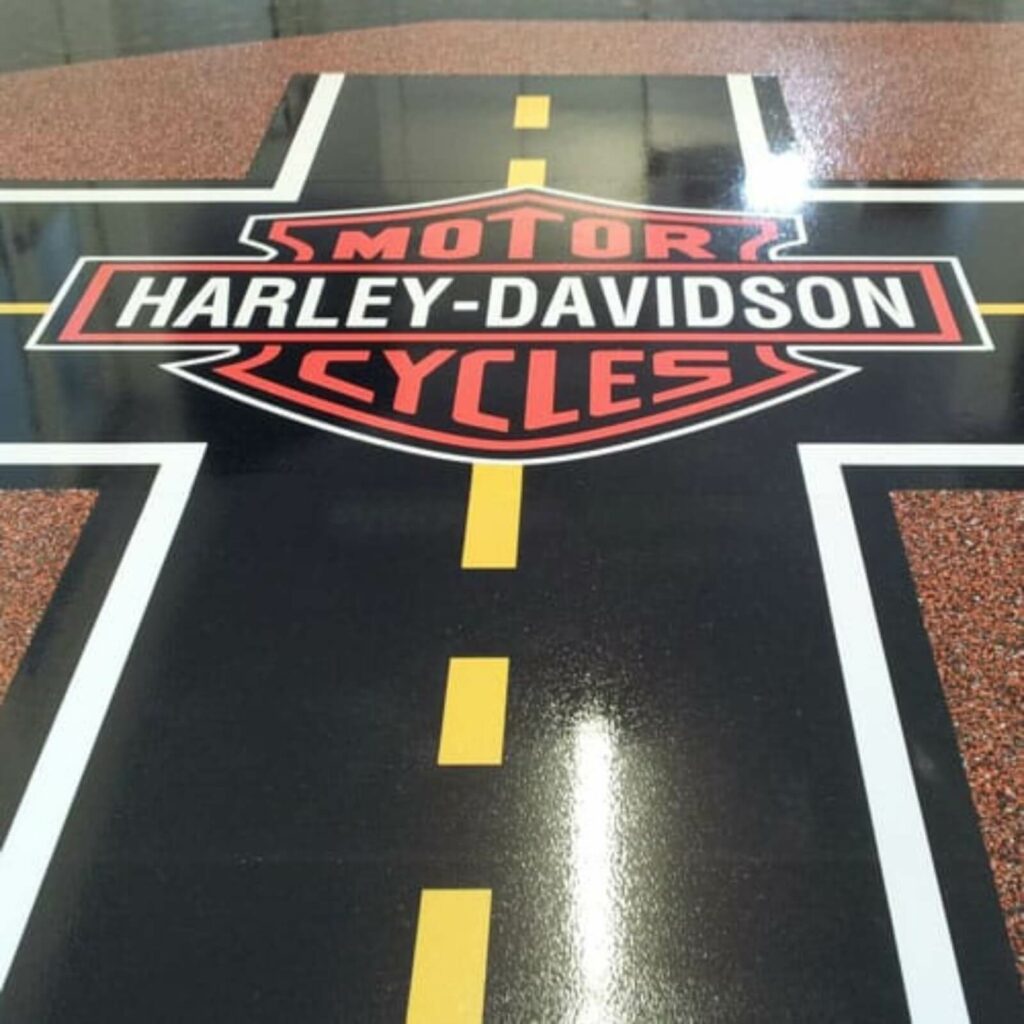 Maine's Commercial Concrete Flooring Partner of Choice When Reputation Matters
At Capozza Concrete + Epoxy Flooring Division, we are committed to providing excellence in craftsmanship, knowledge, and project management. Our team is driven to making your project our priority and we are never finished until you are satisfied. We offer an array of services and partner with the best manufacturers and laborers in the industry. Click below on our featured offerings to learn more:
Featured Concrete + Epoxy Offerings
Be Inspired
With our extensive Concrete+ Epoxy offerings, there are so many options to choose from. Click here to get inspired by some of our projects.
Epoxy Coatings
Epoxy coatings can be the perfect balance between function and flare! Concrete is no longer drab and gray. Your imagination may be the only limit when it comes to epoxy coatings. Epoxy is the perfect choice for designers, contractors, architects alike as form and function mix perfectly.
With a wide variety of available choices your concrete can be textured for slip resistance while still having a pop of color or stylized design.
Finish choices include:
Colored Quartz Aggregates
Epoxy is known best for its slip resistance, it is also the industry standard for thermal shock barriers. Because of these characteristics, epoxy is the perfect match for industries like Hospitality and Food + Beverage.
At Capozza Concrete + Epoxy Flooring Division we can provide you with a stunning epoxy floor that emulates your style or brand. We bring in color, texture, design, or even your own logo. Any decorative finish you can dream, we can produce.
Polished Concrete Flooring
Concrete Polishing is a process in which machines with diamond blades grind the surface of an existing concrete slab. Starting with a coarser diamond and progressing to finer resin, layers of concrete are ground away until a desired sheen finish is reached. This process can be completed utilizing either a wet or dry surface, usually defined by the workspace or time frame allocated. The end result may be either flat honed finish or high-sheen gloss. During the polishing process we densify the pores of the concrete, creating a tighter and more durable floor. After polishing is complete, you can stain the concrete for a unique aesthetic. We feel it is important to emphasize that our ability to achieve your desired look is impacted by the condition and composition of the existing slab.
Why Polish Concrete?
Polished concrete is:
Durable
High Performing
Low Maintenance
Commercial Applications
The versatility and cost savings over time of polished concrete makes it highly sought after for:
Retailers
Warehouses
Machine Rooms
Distribution Centers
Property Managers
Food And Beverage Industries
Healthcare
Education Facilities
If a beautiful, natural, and low maintenance option sounds like the perfect match for you, then give our experts a call. Remember, not all concrete surfaces are the same. Please contact us for assistance in your specific project.
Sealed Concrete Flooring
Completing your project to the final step is imperative to the longevity of your investment. You did your research, you chose concrete, you may even have decided to add a fantastic decorative finish. Now you need to seal it!
Working in Maine, floors in all industries take a beating. Snow, melt, salt, sand, and mud tracked across your floors can quickly cause corrosion, breaking down your new flooring. Concrete sealing is a process in which our team protects your investment against the elements. We offer different levels of protection dependent on your project and budget.
Our Concrete + Epoxy Division Project Managers will discuss your options and make the best recommendations with your business needs in mind.
Moisture Mitigation
The moisture mitigation process minimizes or eliminates the moisture vapor emissions rate (MVER) from the concrete between the surface and affects adhesion of non-breathable floor treatments, such as resilient flooring and epoxy. Capozza Concrete + Epoxy Flooring Division's skilled technicians are fully trained to get the job done right.
The Process:
Typically, the concrete is shot blasted to create a surface profile and remove any contaminants. Next, a two part epoxy is applied at a specific thickness. Once cured, this epoxy layer is what blocks moisture emissions. The epoxy is then primed and self-leveled over to create a smooth, level surface to receive new floor coverings.
Moisture mitigation may initially appear expensive, however the upfront investment will always outweigh any future charges. Take the time to do it right the first time!
Avoid Common Issues:
Delamination
Adhesive Failure
Product Failure
Efflorescence
Discoloration
Mold and Mildew Growth
If your business or construction project needs to invest in moisture mitigation, give our team a call. We can come to your jobsite to determine the best way to proceed.
Self-Leveling Underlayments
A finished concrete floor may not be the final look you are hoping to achieve. Hardwood, tile, stone, carpet, vinyl, whatever your choice is, the concrete surface must be level. At Capozza Concrete + Epoxy Flooring Division, our technicians are trained in leveling and underlayments for all commercial applications.
We level the concrete by installing a specific depth of cementitious underlayment. Leveling concrete is cost effective as there is minimal downtime between our process and your flooring installation. The installation crew, whether ours or yours can come in directly behind us and begin their work. You stay on schedule – timing on a project is key!

Ardex Americas Levelmaster Elite Certified Installation Crew (LME) – Capozza Concrete + Epoxy Flooring Division's technician team is the ONLY contractor in Maine and New Hampshire who are LME Certified. Our highly skilled craftsmen are dedicated to providing the highest level of quality flooring available. Our continuous training with Ardex Americas allows us to offer you high quality substrate preparation, installation services and flooring options and solutions. The program we are a part of with Ardex is recognized as the benchmark installer program in the substrate preparation industry and generally provides a 25 year warranty.

Ready to get started? Connect with our team here:
Concrete Repair
Do you have cracked, discolored or stained concrete, or a concrete slab with surface imperfections? You may be experiencing spalling, consistent abrasion, corrosion, chemical spills, acids, salts, structural movements within the slab, random cracking, or control joint damage. But don't fret because we have the fix for you, so don't jump to a complete tear out and start over. Replacing concrete can be very costly, especially on a larger project. Talk to our team. The Capozza Concrete + Epoxy Flooring Division has highly trained technicians who will repair your problematic surface and extend the life of your concrete.
Eco-Friendly
Concrete resurfacing and repair is not only a cost effective choice to prolong the integrity of your concrete, but also an eco-friendly option that allows you to save your surface rather than replace it. By combining patching or leveling with a cementitious topping or epoxy mortar, our skilled craftsman can provide you with cost inhibiting concrete repair. Once the resurfacing and repair is complete, you can even choose to update the overall look with one of our epoxy products.
If your business has an unsightly concrete surface, give us a call and we will come to your site to determine what has happened and the best way to proceed. At Capozza Concrete + Epoxy Flooring, we want to be your leading industry partner. Business Owners, General Contractors and Architects can rely on our team to provide practical knowledge and experience in selecting a repair which will be cost effective and long lasting.